Below you will find FREE Car Dealer License auction information, tips, and tricks. You will also see many free samples of the type of material you will find in our Dealer License books that we have for sale.
The information on this page is basically an assortment of free information and samples just to say "Thanks for visiting my website". The info will also give you an idea of the type of information I offer for purchase. So whether you decide to make a purchase or not, you can still learn plenty of free info below. Enjoy!
Don't forget to Read Our FREE 12 E-Book Study Course, which contains tons of free information and samples too.
Car Dealers Auction Tip: Possible Flood Damage?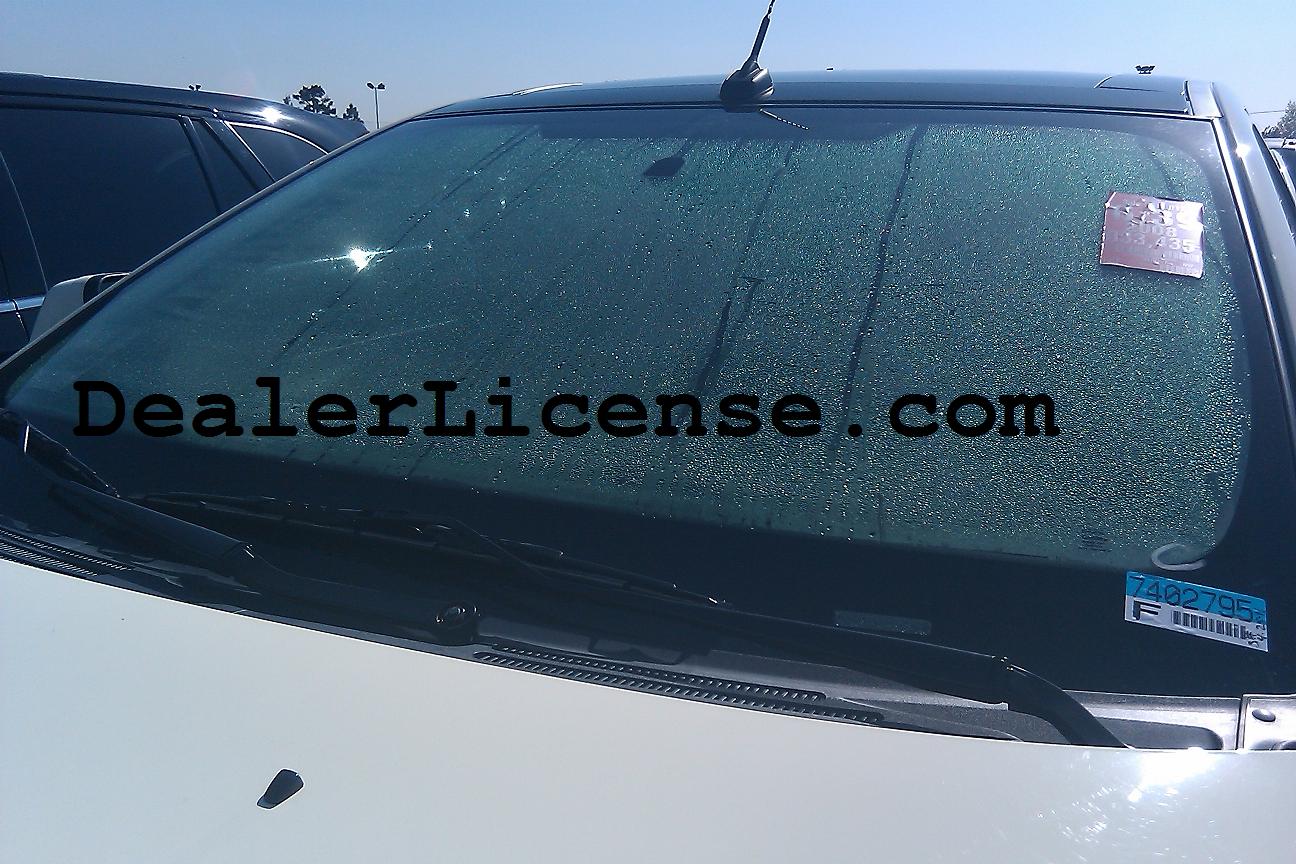 What's wrong with this picture? I took this picture at an actual dealer auction. Notice the condensation on the inside of the windshield. This could indicate two situations.
1. The carpets simply could have been freshly shampooed. Because the windows were rolled up, the water droplets formed on the inside of the windshield and / or...
2. This vehicle could have FLOOD damage.
My Auction Inspection DVD explains these situations and much more.
When there are 2000 cars at the auction to choose from, it's best to move on to a different car and not take any chances.
Car Dealers Auction Tip: The Motorcycle Business is Booming!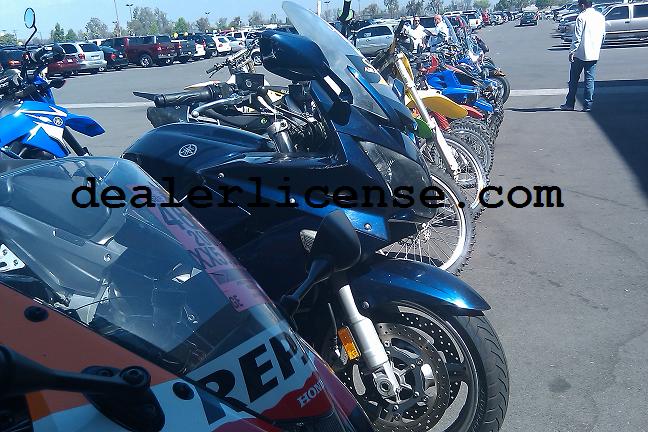 With gas prices soaring, more and more people are buying motorcycles. Here is a picture of a recent dealer auction selling motorcycles. Most "car" dealer auctions such as manheim or adesa do sell motorcycles, but on a small scale. If you want a full exclusive motorcycle auction, you need to go to a motorcycle dealer auction such as NPA.
See our "Powersports" book for more information on the thriving motorcycle business.
Car Dealers Auction Tip: Always Pay Attention to the Windshield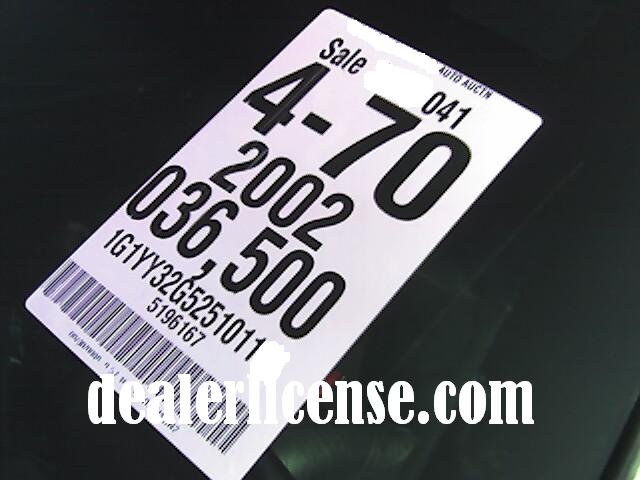 The windshield is the primary way the auction communicates with you prior to bidding. In addition to disclosing vehicle announcements and vehicle history, the auction also tells you the VIN number, the year (2002), the mileage (36,500), and the run number (4-70). The run number here indicates that particular car will be sold in LANE 4, and it's the 70th car to be sold. As a rule of thumb, allow one minute per car. Therefore, you can estimate that if you want to bid on this vehicle, be at lane 4 about 70 minutes after the auction opens that day. With some auctions having over 20 lanes, it's important to pay attention to the run numbers so you don't miss out on good deals!
Car Dealers Auction Tip: HOW TO FIND SLIGHTLY DAMAGED CARS WITH CLEAN TITLES.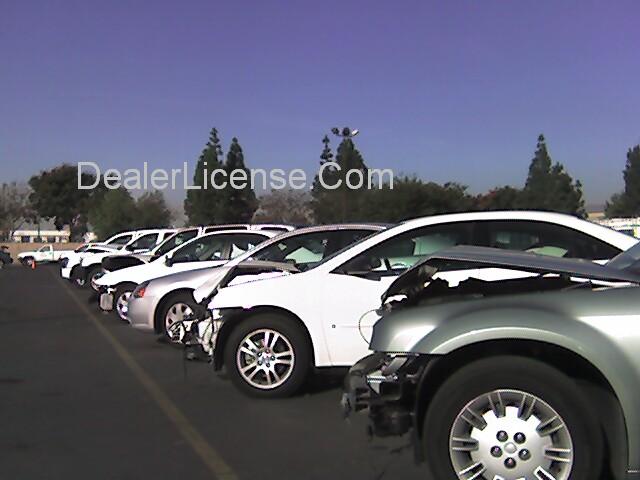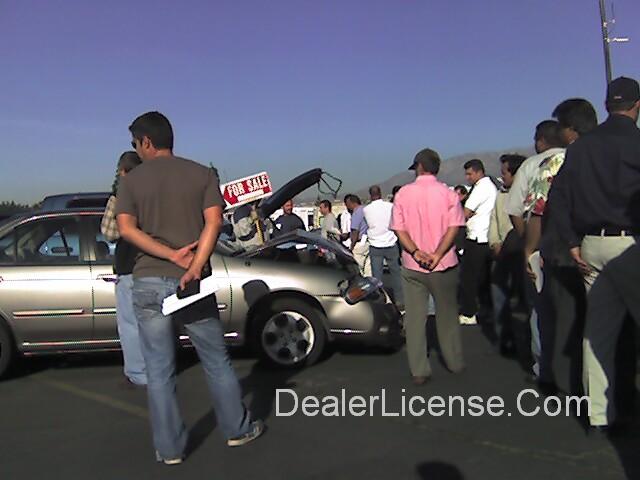 Here are a couple pictures I took recently at a local dealer auction. Some of the highest profit can be made with slightly damaged cars.
Take my advice however: If you like to buy wrecked cars, do NOT go to a "salvage" auction. The best place to buy wrecked cars is at Manheim or Adesa. The reasons are simple:
1. Damaged cars at a normal dealer auction such as Manheim or Adesa will most likely have a CLEAN title.
2. There is LESS competition for wrecked cars at a regular dealer auction, whereas competition is incredible at a salvage auction.
3. Many salvage auctions allow the public, which drives prices up. At Manheim or Adesa, the public is NOT invited, which keeps prices low.
4. Many rental car companies will sell slightly damaged cars at the dealer auction with CLEAN titles.
5. Most damaged cars are easy to fix and do not require extensive frame repair.
For more information on how to succeed buying damaged cars and flipping them, see my Books and DVD's on my order page. I have books on the dealer auction and a DVD on how to inspect cars for frame damage. Remember, minor accident history is fine - just avoid major frame damage. My Frame Damage DVD will show you how to separate minor accident history from major frame damage.
Car Dealers Auction Tip: FLIP THAT CAR!!!
Look, we all know how people flip houses. The idea is to buy an ugly house and make it pretty and flip it for profit. You can do the same with cars! I spend a great deal of time at the auctions flipping cars for a fast buck. Below is an example of an actual auction car I found at the auction. In this example, notice the faded paint job.
Most dealers are impatient and lazy - they want to buy a car at the auction and sell it the next day if they can.
Instead, you can buy this car that just needs a paint job. Get the CHEAPEST paint job you can get - around $300.
Then, you can sell it through the SAME auction you bought it from! Although the paint job will cost you only $300, the wholesale auction price will increase by about $1,000 with a shiny new paint job. Your net profit after about $200 in auction fees will be about $500.
Now, $500 does not seem like a lot of money, but think about this... If you did this with 10 cars, you can potentially make $5,000 in ONE DAY!!!
Keep in mind that when you buy and sell at the dealer auction, all you need is a "Wholesale" Dealer's License.
Of course, if you have a "Retail" license, you can flip it for more money, but personally I would much rather make a quick $500 at the dealer auction, than wait around a few weeks and sell it to the public for more profit.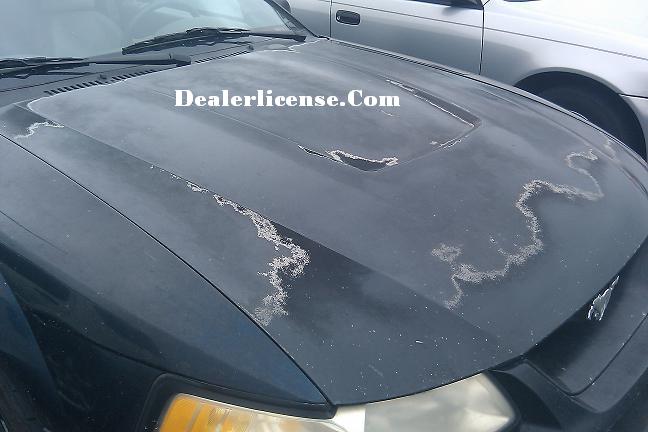 For more information on how to succeed buying cars and flipping them, see my Books and DVD's on my order page.
Car Dealers Auction Tip: IF IT'S TOO GOOD TO BE TRUE....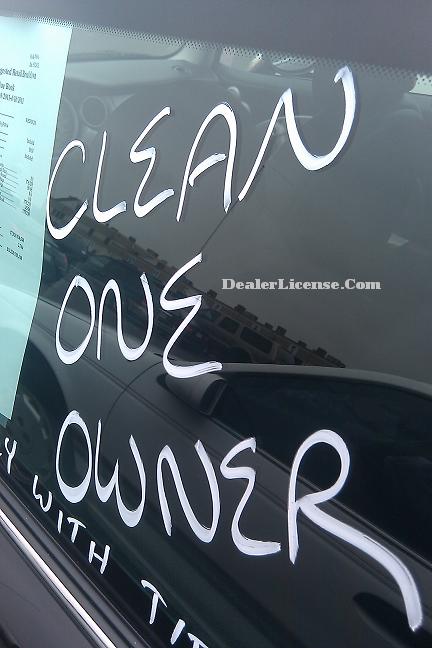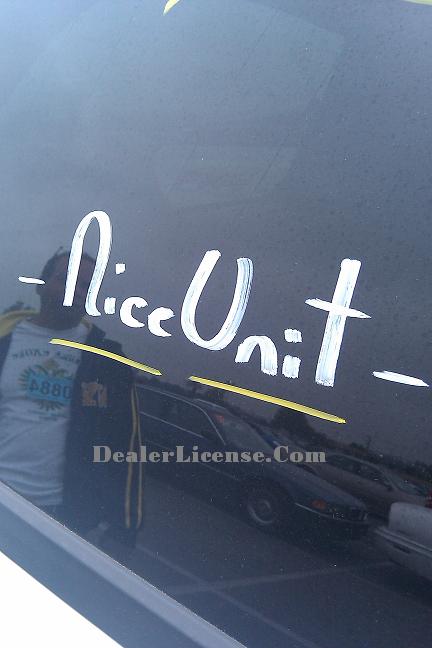 From my 13 years of experience going to dealer auctions, I call smell a rat from a mile away! When you see sellers write stuff on the windows of the cars, they are trying way too hard for a reason. Some of the WORST cars at the auction have the best claims and they are only trying to distract you from problems with the cars.
At the dealer auctions, most of the sellers are either
1. Dealers and wholesalers or
2. Banks, or fleet/ lease
The BEST cars are sold by banks or fleet / leasing companies. A bank will NEVER write such claims on the windows of the cars.
Here are 2 reasons why NOT to buy cars such as pictured above:
1. The sellers are most likely other dealers who are selling problem cars
2. The claims below are NOT backed up by the auction. The auction only backs up claims the AUCTION writes. These claims were written by the SELLERS. How do I know this? 13 years of experience!!!
For more information on how sellers at auctions will try to trick you, see my "Dealer Auction Survival Guide" and other Books and DVD's on my order page.
How to obtain a bond step-by-step:
Virtually all states require a bond but vary as to the amount of the bond. For example, some states require a $25,000 bond while others require a $10,000 bond, and some states don't require a bond at all.
Most people think, "Ten thousand dollars? I don't have that kind of money! What am I gonna do?"
Simply flip open the yellow page book or search on the internet, and look for bond and insurance companies and start calling!
Tell them you need a used motor vehicle bond for the amount your state requires and you will receive a quote right over the phone.
You will probably have to apply for the bond in person unless it is a national company. The application is one or two pages. If you are approved, your bond should be ready in a day or two.
Typically, payment for the whole year is required up front and the bond must be renewed every year. Some bond companies will give you a discount if you renew the bond with them
A dealer I know recently renewed his bond for $175. That's less than $15 a month! Premiums do vary, but as for as I'm concerned, a bond is a bond. Therefore, you might as well go for the cheapest premium.
(After you get your dealer license you will get several offers in the mail for cheaper premiums, since bond companies purchase mailing lists of licensed dealers.)
Do not forget the obvious:
Before you start shopping around for a bond, you must have a business name.
Remember: Using a non-fictitious name as opposed to a fictitious name has several advantages (see section on "Naming Your Business").
Using a bond as proof of financial responsibility:
You might even be able to use your bond as proof of financial responsibility if you get pulled over while driving around your inventory if the bond amount meets or exceeds your state's required amount for financial responsibility.
In other words, if your state says you must have at least $15,000 liability insurance and you have a $25,000 bond, you technically can get by without insurance. Simply hand a police officer a copy of your bond if you get pulled over!
Of course, doing this has its disadvantages. A bond does NOT operate exactly like insurance. If you get in an accident and get sued for your bond, you will have to pay it back.
On the other hand, if you get in an accident and have insurance, you will NOT have to pay for anything other than the deductible.
Why is a bond required?
A bond is required in order to discourage dealers from screwing people over and to give the public a sense of security when purchasing cars. As a dealer, you are in a position to really screw people over if you wanted to.
A bond is also required in other situations you might not think about. For example, if you bid on a car at a dealer auction and refuse to pay for the car, the dealer auction can sue for your bond amount.
How can you lose your bond?
Most bonds are lost when the dealer commits fraud or misrepresentation. The dealer might not only get sued personally, but may also get sued for his bond amount.
For example, if a defrauded buyer wins a settlement against a dealer for $30,000 and the dealer is broke; the lawyer will attack his bond instead.
On the other hand, if the dealer has $30,000 in business assets, the lawyer will sue for his personal assets and the dealer will NOT lose the bond.
DISCLAIMER: The preceeding information does NOT constitute legal advice. For legal advice, please seek a competent attorney.
You will find more tips like these bond tips in my "Dealer License Manual".