"Since 1997 - The Original Car Dealer License Site - and still the best!
Dealers License Books / Why Choose Us? / Samples / Scams to avoid / Dealer Auctions / Consulting / Contest / Contact Us / Links
Florida Car Dealers License / Other states (See below)
---
My Goal as a Licensed Car Dealer
If you want to make money buying and selling cars, or simply buy wholesale cars for your friends, family or yourself, you've come to the right place.
I'll show you everything you need to know, from getting your dealer's license to being successful as a licensed used car dealer. I know the business from the inside-out.
I'M A REAL LICENSED AND BONDED CAR DEALER and I have been for the past 17 years! I've been a BBB Accredited business since 1999. I'm also a licensed Attorney so I understand dealer laws. (I became a car dealer back in college, and as a back-up plan, I enrolled in law school. Although I'm also an attorney, my passion is in the car business AND always will be!)
YOU MAY CONTACT ME DIRECTLY - CALL OR TEXT ME ON MY PERSONAL CELL PHONE AND I'LL ANSWER ANY QUICK QUESTIONS YOU HAVE WITH A FREE 5-MINUTE CONSULTATION. ASK FOR ME, JAMES. YOU DO NOT HAVE TO BUY ANYTHING. IN FACT, I HAVE TONS OF FREE INFORMATION - Just click on "Free 12 E-Book Study Course" or see my "samples" link above.

Why Get a Car Dealer's License?
1. Gets you into private wholesale dealer auctions only dealers can go to - same auctions that all used car dealers get cars from, including mega-used car dealerships!
2. Go directly to new-car dealerships to buy wholesale cars with "closed bids"
3. No state limit to how many cars you can sell per year.
4. Drive around dealer cars with dealer license plates.
5. No need to waste time "wheeling and dealing" and hunting through ads.
6. You'll be a small business owner, entitling you to gold corporate credit cards, small-business loans and other fringe benefits.
7. Tax benefits! "Write-off" just about anything, including gas receipts, auto repair receipts - even dinner and movie receipts!
8. Become an auto broker! Did you know you need a dealer license to become an auto broker? You'll be 1/2 way there!
9. Get dealer discounts and make tax-free purchases from almost any business including factory car dealers and parts stores.
10. Buy wholesale cars for yourself, your friends and family members. You'll never get ripped off from a dealership again!
11. Export cars outside of the country - Typically, you can make double or even triple profit if you export overseas.

Without a car dealer license, you are missing out on all these benefits and you are losing thousands of easy dollars every month. I typically buy cars for $1,500 and sell them a few days later for $3,000 without doing a thing to the cars. That's $1,500 profit in my pocket without even blinking.
I will show you exactly how to get a dealer's license of your own - (As part of my local dealer license consulting business, I have written SIXTEEN ENTIRE VOLUMES of car dealer license publications including the "Dealer License Manual", which makes it easy for ANYONE to obtain a car dealer license in ANY STATE.)
It has numerous tips and tricks in simple, step-by-step ordinary language that states and other car dealers don't want you to know about...
The State is the Car Dealer License Enemy
Did you know that all states make it a misdemeanor crime to buy and sell cars without a dealer license? States regulate this by putting a strict limit on how many cars you can sell per year as a private party.
What the state is really saying is "If you don't play by our rules, we'll make it virtually impossible for you to make money in the car business."
To make matters worse, states WILL tell you what laws you must follow, but WILL NOT take your hand and guide you through the process. As a result, the process of getting a dealer license can be outright ridiculous unless you know someone in the business.
Many people think about getting licensed, but eventually give up - frustrated and discouraged in a maze of confusion. They fall back into the trap of searching through ads every week, playing phone tag, and driving around town all day hoping to find a deal, while the licensed dealers are at the dealer auctions and new car dealerships buying cars at below wholesale.
After you get your Car Dealer's License, WHO will teach you the business?
Through the years, I've seen many dealers struggle. They get their car dealer license just fine, but they don't really understand how the car business works. If you don't understand the dealer auctions, you will be eaten alive! Don't take any chances. You can find car dealer license publications at: http://www.dealerlicense.com/dealers.html
WARNING: Out-of-State licenses are NOT the best idea:
I AM A CAR DEALER AND I AM ALSO A LAWYER, SO I HOPE YOU TAKE THE FOLLOWING SERIOUSLY:
There are many programs online where you can "rent" a dealer license or get licensed out-of-state. If you are wholesaling from auction-to-auction, it's difficult for your state to bust you. However, these programs can be problematic, especially if you are advertising to the retail public in your state, even if you are a wholesaler who sells "through" a network of local dealers. Even if you have a wholesale license in another state, by advertising to the retail public in your state, you are purporting to be a retailer and since you do NOT have a retail license in your state, the state considers it "unlicensed auto sales", which is usually a misdemeanor crime. If you don't believe me, simply call your local DMV investigator and they will certainly tell you the same thing.

States are Cracking Down on Out-of-State Car Dealer Licenses!
HERE'S SOME REAL PROOF:
Recently someone called me about advice because they were busted in their state for unlicensed auto sales. What happened was they lived in Florida and had a dealer license based in another state. They advertised a car on Craigslist.com and an undercover DMV investigator pretended to be a customer. Even though he had a dealer license in another state, when the Investigator found out that the dealer did NOT have a Florida dealer license, the DMV slammed the guy with a civil injunction lawsuit against him and if he continues to sell cars in Florida with an out-of-state license, he will be prosecuted as well. That unlicensed dealer has had to pay thousands in attorney fees for his defense. The investigator was nice enough to give him a "slap on the wrist" with a civil suit only, but not all investigators are that nice - you can be prosecuted. Do you want to take that chance?
In many cases, it's CHEAPER to get your OWN car dealer's license than getting an out-of-state license
Why pay monthly fees to an out-of-state company when the same monthly fees can be applied towards your OWN in-state car dealer license. I talk to dealers all day and many tell me that it ended up being CHEAPER getting licensed in their own state. If you know what the MINIMUM requirements are, it can be done. Your state will tell you the requirements, but they will NOT tell you the easiest, fastest and cheapest way to get your Car Dealer's license. You can learn the easy, fast and cheap way here.
EVEN DEALER AUCTIONS ARE CRACKING DOWN ON OUT-OF-STATE LICENSES
At my local Manheim dealer auction there is a huge sign that says:
"OUT OF STATE DEALERS: If you purchase a vehicle, it MUST be exported outside of this state."
Not all auctions have this policy, but the trend is for more and more auctions to follow this rule. The auction does this per the state's request because the state knows most out of state dealers who buy, will try to sell that car in the state the car was purchased in. This is a back-door method that the state is using to further crack down on unlicensed auto dealers.
What this means is that the dealer auction will NOT release the car to you because you have an out of state license - you need to show the auction a bill of lading from a trucking company that says the car is going to be transported out of state. This can be MAJOR problem if you have an out of state license! Do it the right way - get a dealer license in your OWN state in your OWN name.
A Car Dealer License in your OWN state is Not as Hard as You Think
When I got my license I realized it takes a little patience, but it is NOT difficult if you are aware of what to expect and what the minimum requirements are . In fact, the vast majority of licensed dealers don't have huge lots and fancy signs - they do the minimum required to get licensed. The minimum requirements can be quite simple.
I WILL SHOW YOU EXACTLY HOW TO MEET MINIMUM STATE-LICENSING REQUIREMENTS!
Easy Money, Little Work With a Car Dealer's License
It's no secret that there's plenty of easy money to be made in the used auto industry.
With my Car Dealer License, I only "work" about 15 hours per week! I sleep-in almost every day and I'm loving it!
I have plenty of extra time to do whatever I want and I'm making more money selling cars than I have made in any other job I have had in my life. And what's best - I'm only doing it part-time!
(Ironically, "small dealers" often make more money than "big dealers" due to less overhead)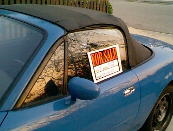 Don't Believe the Car Dealer License Myths
Before I got licensed, I was lucky enough to have a dealer friend help me out. Unfortunately, He was more confusing than the state! He told me about requirements that didn't even exist. Clearly, he was trying to discourage me. Now that I'm licensed, my favorite thing to do is bid against him at dealer auctions with a smile on my face. :)
My Revenge - Help Others Get Car Dealer Licenses!
After countless hours of research in law libraries and personal experience as a licensed car dealer, I opened up a local car dealer license consulting company to help people get a dealer's license. As part of that business, I created training manuals to help people get their dealer licenses. For example, one of my SIXTEEN VOLUMES tells you EXACTLY how to get a dealer license, COMPATIBLE WITH 50 STATES. It's loaded with every tip and trick you can think of to make the licensing process easier! I didn't stop there...
After receiving threats from other dealers, I broke through the dealer code-of-silence and made history by being the first website to offer Car Dealer's License Consulting
I now offer DVD VIDEOS, AUDIO CD'S, TRAINING MANUALS, AND PHONE HELP.
There is no reason why an honest person should be discouraged from getting into ANY business.
I will clear up the guessing games, launch you into the right direction and help make the process much easier. No more mysteries.
Do you really need my help? How can my program help you?
I'm sometimes asked, can't I get the requirements online? How can your program help me?
Well, it is true - anyone can do a simple internet search and in minutes find information about car dealer license requirements. However, keep this in mind:
1. The state will give you the requirements but they will NOT tell you what to do first, second, third, etc. (There is a certain order in which you need to meet the requirements if you want to save time and money)
2. The state will NOT hold your hand and guide you through the process step-by-step - That's my job!
3. The state will NOT show you the easiest and cheapest way to get licensed - Again, that's my job!
4. The state will NOT show you how to succeed and make money in the car business - My job again!
5. The state will NOT take your emails and phone calls if you need help along the way and after you get licensed - I will!
(Don't forget: I'm a licensed dealer and I've had my dealer license for almost 16 years. I'm also a lawyer who is very familiar with dealer laws.)
Examples of Car Dealer's License Topics Covered in Detail... (plus many more!)
What are the advantages of a licensed auto dealer that states won't tell you about?
Where do dealers get special discounts from with a car dealer license?
Exactly how much money will it take to become a licensed auto dealer?
Where exactly do I get the car dealer's license from?
Can I sell cars from my home with my car dealer license? What will happen if I do?
Exactly how long will it take to get my dealer's license?
Who can I call for questions concerning a dealer license?
How much profit can I expect if I have a car dealer license?
What are tips and tricks for reducing the car dealer license "red tape"?
What is a bond for? Do I need one to get a car dealer license? How do I get it?
Do I need a business license? What will happen if I don't get one?
Do I need a car lot to get a car dealer license?
Do I need to be physically present at my office during business hours, or can I have customers beep me?
Is office sharing permitted with a car dealer license?
Do I need business insurance to get a car dealer license? How can I get around it?
Can I get sued personally? What's the worst that can happen?
How difficult is it to pass the inspection of place of business? What do they look for?
What are tips and tricks for naming an auto business?
How do I make my own inexpensive business signs?
What should I know about city zoning? What are some zoning tips to get a car dealer license?
Do I need to obtain a business checking account, or can I use my personal account?
How BAD is bad credit for a car dealer license?
How can a criminal record affect my application for a car dealer license?
Do I need to take a state exam to get a car dealer license?
Want a FREE 5 minute Car Dealer consultation? Call me!
The only thing I ask is you click on some links below to find out more about my services, read my free sample and "free study course" and then give me a call. Just click on my "contact us" page and call me any time. You won't find me hiding behind my computer. Call me!!!
---
WHY OUR CAR DEALER LICENSE PROGRAM IS BEST ON THE WEB
FREE CAR DEALER LICENSE SAMPLE PAGES
Free e-book How Much Money Dealers Make!
FREE LIST OF CAR DEALER AUCTIONS IN THE U.S. AND CANADA
Car Dealer License (California Only)
Win A Free Car Dealer License Book
Contact Us / Company References
---
WILL THIS Car Dealer's License Program WORK IN ALL STATES?
Requirements do vary slightly from state to state, but most states have certain requirements in common with each other. For example, most states require a bond, but vary in the amount of the bond. One of the books available, called "Secrets of Licensed Car Dealers" contains the requirements of all 50 states in the appendix! In my "Dealer License" manual, I discuss the easiest and cheapest ways to acquire the bond.
The materials we provide will help you get a dealer's license in all the following states: Alabama Alaska Arizona Arkansas California Colorado Connecticut Delaware Florida Georgia Hawaii Idaho Illinois. Indiana Iowa Kansas Kentucky Louisiana Maine Maryland Massachusetts Michigan Minnesota Mississippi Missouri Montana Nebraska Nevada New Hampshire New Jersey New. Mexico New York North Carolina North Dakota Ohio Oklahoma Oregon Pennsylvania Rhode. Island South Carolina South Dakota Tennessee Texas Utah Vermont Virginia Washington West Virginia Wisconsin Wyoming.
---
© Copyright 1997-2014 Hedjazi Motors/ Car Dealer License Auto Consulting. All rights reserved. Have a Question? Call us
Dealers License Books / Why Choose Us? / Samples / Scams to avoid / Free E-Books / Dealer Auctions / Consulting / Contest / Contact Us / Links